Software Engineering Optimization
Home
---
Visualising the unobservable in software processes & products
Dr Ram Chillarege, President of Chillarege Inc. and chair of the IEEE Steering committee for Software Reliability , will be speaking about Orthogonal Defect Classification (ODC) at 11 am, Friday December 6th, at NIST, Washington DC.
ODC is a concept that enables software developers to derive in-process feedback by extracting semantics from data that is already tracked in most organizations. The data and analytics assists in visualizing a process that typically evades visibility.
This is analogous to the way magnetic resonance imaging (MRI) equipment aids a physician to have a rough idea of how a human being looks on the inside without knowing anything about the specific patient.
ODC creates a new order of capability to gain insight and clarity. It can be used to profile market segments, evaluate processes and tools, and factor the impact of legacy code. Security bugs can be profiled to understand their circumstances and characteristics. Today many of the networks in mobile telephone have used ODC to improve their reliability and availability. Similarly, ODC has helped manage the process and quality of software in diesel engine controllers that ply on our roads.
5 Differences between Classical and ODC Root Cause Analysis in Software
Ram Chillarege, October 2013
Transcript of video clip.
"Hi. My name is Ram and what I'd like to share with you is a comparison between the classical root cause analysis and the ODC style of root cause analysis in software. What's different between the two? What are the advantages? And so forth. There are several differences, but there are five principle difference that I'd like to focus on".
ODC Tutorial at ISSRE 2013 Conference
This ODC tutorial is free for all attendees of the ISSRE Conference. Every year, we do a couple free tutorials for the broader software engineering community.
Link to ISSRE 2013 Site with tutorial announcement.
Monday, November 4, 2013. Pasadena, CA www.issre.org
Topics:
ODC Concepts and Information Extraction
How to gain 10x in Root Cause Analysis
How to tune up the Test Process using ODC
Case Studies of ODC based Process Diagnosis
What is required to support ODC?
How does one plan an ODC Rollout ?
What is ODC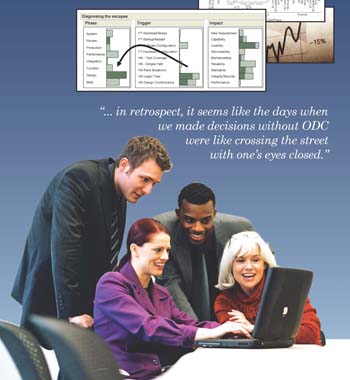 What ODC brings to software engineering can be captured in two words: INSIGHT and SPEED. One leads to the other. But, they are not the only things that cause our eyes to light up and the organization hum with excitement. It's the power we gain through practical knowlege to affect the right engineering and process change that makes the difference.
Join us and learn about ODC. And we will begin a journey that is exciting, profitable, and immensely satisfying. We will help your organization apply ODC at the most appropriate level given your business priorities. We will train your staff, help you with your tools and processes, and empower your leadership with insight.
Software Testing Best Practices
This is a list of software testing best practices, whose durability has surprised me. I put this list together when we launched the software testing initiative across IBM more then a decade ago. Over the years, it surprises me how many times it continues to be downloaded - thousands every month! I keep thinking I need to revisit this list, and I will. But, it still makes a good read - as evidenced by its popularity.
Agile Development Conference - Test QA Primer -

Agile Development Practices Conference, Orlando, Florida, USA. November 07, 2012 PM
Orthogonal Defect Classification: An Agile Test/QA Primer - Ram Chillarege, Chillarege, Inc.
Can defect root cause analysis be made agile? Can we transform a multi-hour task from the classical world of software engineering into one that takes minutes and yields greater insights? Learn how Orthogonal Defect Classification (ODC) extracts semantics from defects and turns them into insights on the development process using analytics. After a quick overview of ODC, Ram Chillarege presents a case study to illustrate the method using real-world data on an agile project. They used ODC Triggers to measure test effectiveness at the end of every sprint to evaluate the effectiveness of testing compared to earlier sprints. This ODC process takes just minutes and brings its insight into the realm of the agile development practices. Put a powerful analytical technique in your agile toolbox to increase the velocity of your agile project and find new ways to reduce defects while measuring the quality of testing.
What is Software Engineering Optimization?
Its all about speed, cost and quality. How do we take a currently operational software development or IT function and radically improve it based on your business need? It is not uncommon for several competing ideas to exist in an organization - there ought to be given the brain power in a software organization. But, what is the best business and technical answer? What are the tradeoffs? What are the risks? And finally, given the culture what is the most reasonable and prudent choice?
This is where Chillarege Inc. excells. We have the technical depth and business experience to help you make the best decision. We also have the analytics and methods to extract information from your operations to evaluate and illustrate your choices. And we bring our experience from across the industry to recommend what is best for your business.
Give us a call to explore your software engineering optimization possibilities.
When it comes time to increasing speed, reducing cost, or improving quality, there are few in the industry that can compete with the track record we have.