Lynne Harris
Ofc:+1-202-371-0101 Fax: +1-202-728-9614
l.harris@computer.org
TECHNICAL ACHIEVEMENT AWARD GOES TO RAM CHILLAREGE, RECOGNIZING HIS "INVENTION OF ORTHOGONAL DEFECT CLASSIFICATION, AND CONTRIBUTIONS TO ADVANCES IN SOFTWARE ENGINEERING MEASUREMENTS AND ANALYSIS."
FOR IMMEDIATE RELEASE: 21 May 2004
WASHINGTON, DC. – The Institute for Electrical and Electronics Engineers (IEEE) Computer Society has chosen Ram Chillarege as a recipient of the Technical Achievement Award. Ram has developed a consulting practice called software engineering optimization – a method to fine tune efficiency and productivity constrained by the technology, legacy and market forces of a business.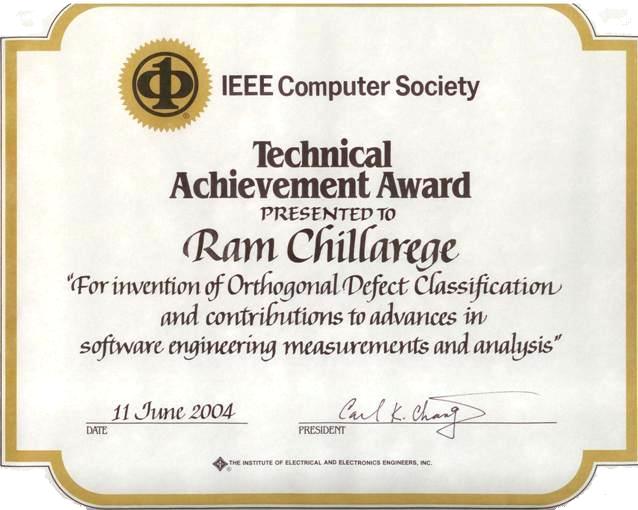 The Technical Achievement Award consists of a certificate and is presented to individuals whose professional work has been outstanding and innovative in the fields of computer and information science and engineering, or computer technology. Typically, this work should have been performed within the past ten, but not more than, fifteen years.
Chillarege founded and headed the IBM Center for Software Engineering with research and implementation programs worldwide. After 14 years at IBM he left to serve as Executive Vice President of Software and Technology for Opus360, New York. Ram is the inventor of Orthogonal Defect Classification (ODC) and an expansive body of work which ushers new methods to the business of managing software engineering. Its evolution from concept to large scale rollout spanned a decade, culminating with implementation programs worldwide reaching thousands of engineers at IBM. ODC brings value through fast measurement, sophisticated analysis and targeted feedback. The best practice makes achieving and maintaining higher maturity more dependable, and is resulting in broader adoption across the industry. Ram was awarded the IBM Outstanding Innovation Award for the invention of ODC.
In the mid '90s Ram led an IBM Academy study on Software Testing bringing together thinkers and leaders across academia and industry. The findings and recommendations was the epoch that led to the subsequent creation of IBM's company-wide Software Test initiative. The initiative, run by a corporate director, is credited for having spawned new technology, enhanced existing practices, and built a technical leadership community across business units which impact tens of thousands of engineers.
Ram was elected IEEE Fellow. He has published around 50 academic grade articles and continues to maintain a select research program. He serves on the steering committees of Dependable Computing and Software Reliability. He serves on the advisory board of a few startup companies and is on the board of the University of Illinois Department of Electrical and Computer Engineering, Urbana-Champaign.
The IEEE Computer Society will formally present the Technical Achievement Award to Chillarege during the society's Board of Governors meeting in Long Beach, California on 11 June.
The IEEE Computer Society is the world's leading association of computing professionals with 100,000 members in over 140 countries. Founded in 1946 and today the largest society within the IEEE, this not-for-profit organization is the authoritative provider of technical information and services for computing communities worldwide. It offers a full range of career enhancing products and services through its 124,000-article digital library, 20+ peer-reviewed print publications, distance learning courseware, online technical books, 150 technical conferences, standards development, 32 technical committees, certification for software professionals, 200 local
Award Presentations, Long Beach, California USA, 11 June 2004